Info-Cordoba is a travel information guide for Cordoba Spain written by a long-time resident. In it you will find information on Cordoba hotels, monuments, sightseeing, eating and festivals. We'll also provide up-to-date articles and on the latest tourist happenings in Cordoba, and provide a calendar of upcoming events so that you can better plan your trip to Andalusia (southern Spain).
Cordoba's Remarkable History
Capital of the western world in the 11th century, Cordoba is not only a convenient stop in central Andalusia, but the essence of Spain. Roman, Jewish, Islamic and Castilian civilizations are captured in its streets, its monuments and its collective consciousness. Check our history section for a timeline. Intimately linked with the city's history and identity is the Mosque of Cordoba (la Mezquita), now Cordoba's Cathedral and one of Spain's most visited attractions. Both the Mosque-Cathedral and Cordoba's Historic Center are UNESCO World Heritage Sites.
The sights of sounds of Andalusia: A tourist's delight
But there's more to Cordoba than just the Mezquita. It is a city which is meant to be explored--its sights, its smells and its tastes savored at leisure. A little square trickling with a fountain, an open doorway revealing a peaceful courtyard or a balcony overflowing with bougainvilleas await just steps away from the hurried itineraries of coach tours.
Five Reasons to Visit Cordoba, Spain
RECENT ARTICLES AND FEATURES
New: The 21st Century Has Brought Big Changes to Cordoba (3 Jan 2011)
Major new Spanish museum inaugurated in October 2009! Medina Azahara Interpretive Center and Museum photos (29 Nov 2009).
Dates for the 2010 Patio Festival
47 Patios to Compete in the 2008 Cordoba Patio Festival (4 May 2008)
A Renewed Crosses Festival Fills Cordoba's Streets (4 May 2008)
Cordoba-Malaga connection closer with cheap train service and new motorway (Mar 1, 2008)
Cordoba's Palaces Become Elegant Hotels and Restaurants (Feb 17, 2008)
2008 Cordoba Upcoming Events Compiled - dates for Cordoba Patio Festival (Jan 2008)
Printable pdf historic walking tour
Where are the best hotels in Cordoba? Find them at a glance.
Cordoba maps and driving tips (Jan 26, 2006)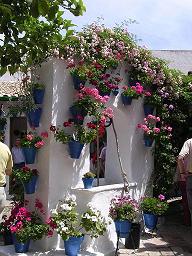 One of the many private patios open to the public during the Patio Festival in May.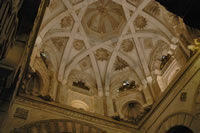 The Mezquita's ribbed vaults were an inspiration to Gothic architects. Our photo appears in Muslim Heritage.com's book, 1001 Inventions.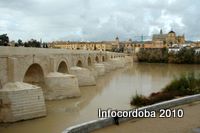 The Roman Bridge and Calahorra Tower and Puerta del Puente have recently been restored.
Infocordoba is the first English-language website exclusively dedicated to Cordoba.
Cordoba souvenirs: Paintings of Cordoba Patios